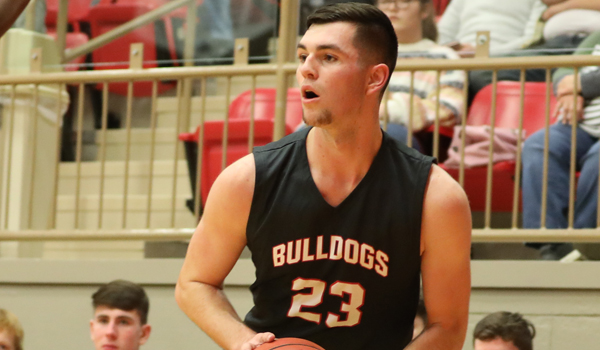 By Brennan Stebbins (For OzarksSportsZone.com)
The Carl Junction boys basketball team earned three wins in its first five games last season – and then just three more in its final 21.
The Bulldogs suffered through a nine-game losing streak in February and finished the year 6-20, the program's sixth-straight losing season.
New head coach Justin Pock hopes to turn things around after serving as an assistant coach at Carl Junction for five years. He previously spent nine years at Cuba, including six as head coach.
"Last year was kind of up and down but we tried to compete most games," Pock said. "The COC is tough night in, night out.'
The Branson graduate said he always wanted to get back into head coaching, especially in a conference he's familiar with like the Central Ozark Conference. The COC has proven tough for a team seeking a turnaround, though, as Carl Junction has won just four games in conference the last four seasons.
As the Bulldogs look to take a step forward this winter, they'll rely heavily on senior Alex Baker, who plays on the wing and was listed at 6-foot-3 last year. He was the team's leading returning scorer entering last season after averaging 8.1 points and 6.5 rebounds per game as a sophomore. He's also the only returning starter this year.
CLICK HERE FOR ALL OF THE WINTER SPORTS PREVIEWS
"He's a solid kid," Pock said. "He's a strong player and he's a really smart player. He's a kid I think every program would be glad to have. We just need his leadership."
Others returning with varsity experience are seniors Trentyn Lehman, Sincere Williams and Blake Poorman.
Lehman, who was listed at 6-1 last season, is an "athletic, strong kid that can really get to the basket and can put up some points," Pock said. He'll play as a guard. He was a big scorer last season and often one of the top Bulldogs in the box score. He scored in double figures at least seven times, including a 17-point effort against Jefferson City, and led the team in scoring at least four games. He scored 24 points combined in the team's two district games.
The 5-9 Williams will handle point guard duties and help get the ball up the floor and get the team into its offense. Poorman, listed at 6-7, runs "really well" and will provide an inside presence.
Pock cited three newcomers who haven't had any varsity experience but did have good showings in the summer. Junior 5-11 shooting guard Kyler Perry is one, along with 6-2 junior Josh Cory and 6-2 sophomore Ayden Bard. Cory will see action as a forward and Bard will play guard.
"I think they all play really well together," Pock said. "They share the ball really well. We don't have any selfish players. I think we can all run. We can get up and down the floor."
The Bulldogs averaged 8.8 assists per game last season and 6.3 steals, but did allow 8.5 steals by their opponents. The team also averaged 26.5 rebounds per game but was out-rebounded by about two boards a game.
One of the team's biggest losses to graduation was Alex Dixon, another player who frequently led the team in scoring. He poured in 20 points against Webb City and combined for 29 in two district games. Teagan Armentrout, a 6-1 guard, was another big loss to graduation after being a multi-year starter. And Isaac Hoberecht, a two-year starter at guard, would be a senior on the team but moved out of state. He was the team's leading scorer as a junior with at least nine games in double figures. He scored 20-plus at least four times, including a 25-point outburst against Monett.
"We're going to have to answer the call every night," Pock said. "We're going to have to play well not only at home but also going to some tough environments and be able to hold our own. We won't back down from anybody. We play a tough schedule and we've just got to keep fighting through."
Four of the team's six wins last year came on the road or on neutral courts. That includes a 55-51 win against Cassville in the Class 4 District 12 tournament.
As far as the starting five, that remains to be seen. Pock said he won't guarantee anybody a starting spot just yet.
"We've had some guys that have put in some work in the past that could maybe give them a leg up on someone else for those spots," he said. "Really it's going to be you come to practice every day and earn those spots."