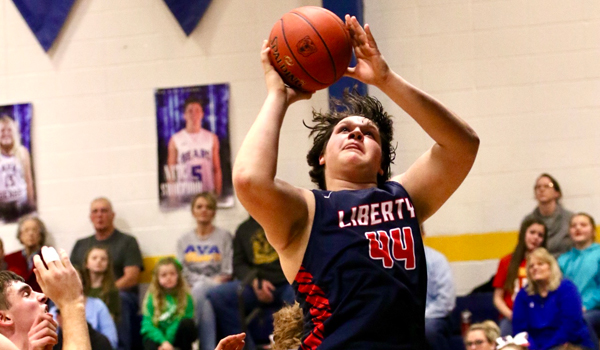 By Mark Spillane
MV/BT-Liberty enters this season with a new coach at the helm, former assistant James Lee.
"As a kid, have you ever had a dream about being or doing something? Well, I am living that dream," Lee said about taking over the Eagles program after seven years as an assistant.
Lee's team has a key piece to build around in his first year running the show: senior center Kaden Daniels.
"As a 6'6, 250-pound big man, he has one of the softest touches that I have ever seen. As a big man, he has great form, good rotation on the ball, and his strength allows him to shoot the ball effortlessly," Lee said.
Last year, Daniels averaged a team-high 16.6 points per game to go along with 6.2 rebounds per game.
Another senior, Zeb Conman, will join Daniels down low playing power forward. Conman added 9.6 points and 6.6 rebounds per game last year.
"Zeb is a returning starter that provides us with a strong inside presence," Lee said. "His incredible athletic ability will definitely have an impact on both offense and defense."
CLICK HERE FOR ALL OF THE WINTER SPORTS PREVIEWS
With Daniels and Conman making their presence felt up front, junior point guard Deion Lee should control the Eagles' backcourt.
"Deion puts more time in the gym than anyone I have seen, and it shows through his high skill set and basketball IQ. With over 30 games this summer and playing top players across the nation, Deion has shown us that he is ready to lead this team," Lee said.
Lee says three newcomers are poised to make an impact this year: Dylan Cooper (junior guard), Drew Ripken (sophomore guard), Terrell Gaines (freshman guard).
Overall, Lee has high expectations for his team despite some key losses off of last year's team.
"I truly feel like this team can do great things. We should play in every championship game in each tournament and we should be a 20 win team," Lee said.
In particular, Lee has set three goals he hopes to see his team accomplishment.
"Liberty hasn't won a tournament in five years. Liberty hasn't won the Liberty tournament in seven years. Liberty hasn't won the district tournament in nine years. Our goal is to win all three of these," Lee said. "Can we? Yes. Will we? We will have to wait and see."
The Eagles begin the year at Winona on Dec. 1.