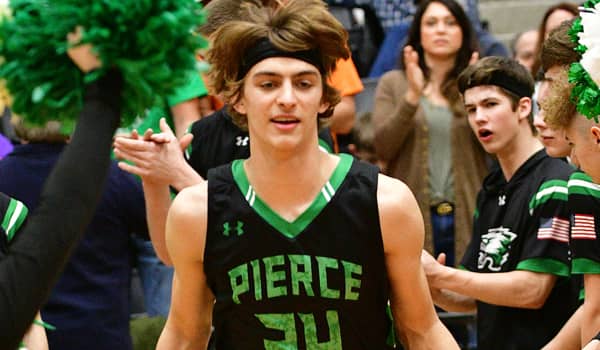 By Chris Parker
Pierce City boys basketball won 23 games and a district title last season. This year, the Eagles will have a new coach in Zac Hill. Hill has been an assistant at Pierce City since 2016-17.
The Eagles must replace seven graduated seniors including two all-conference selections.
Kyle Renkoski is the top returning player. He earned first-team all-conference honors in his junior year by posting averages of 14 points, 6.5 rebounds and 2.5 assists per game.
"I've known Kyle well since he was in 8th grade. I actually coached his junior high basketball team in the end of season tournament because the head junior high coach had a surgery and was recovering. He is a great player, but he's an even better kid. It's awesome to have him back and to watch him continue to grow," Hill said. "Kyle's best asset is he constantly strives to get better and is a great competitor."
Past Renkoski, there will be new players to the varsity game. That group includes seniors Payton VanNote, Trevor Aust, Kyler Fenske and Jacob Iman.
CLICK HERE FOR ALL OF THE WINTER SPORTS PREVIEWS
"Payton is a very capable basketball player. He has been behind older post players, but is ready for the opportunity to be successful. Trevor is a good shooter and has a good motor. Kyler is an athletic senior with high energy. Jacob is a great kid and has done all the right stuff in our program; very hard worker," Hill said.
Juniors Ashton Medlin, Payton Meonnig and Garrett Jeperson give Pierce City three more upperclassmen on varsity.
"Ashton is an excellent shooter that works hard for us and continues to improve. Peyton is a natural scorer with the ability to not only score inside, but also knock down jump shots as well. Garret has awesome footwork with a really soft touch," Hill said.
Sophomores Zane Clayton and Clayen O'Hara also will look to make a varsity impact.
"Zane was ready to play varsity basketball as a freshman, but we had such a senior heavy class. Look for Zane to have a big role this season," Hill said. "Clayten is the younger brother of Colten of last year's team. He's a great competitor and has continued to improve each season."
This group will bring a mentality of hard word to the court each practice and game.
"We will guard the basketball and end possessions," Hill said. "(We expect) to get better every day, work harder than opponents, and to refuse to back down from anyone."
Pierce City opens the season on Nov. 24 at home against Cassville.
"We have an awesome group of kids that work hard and are committed," Hill said. "I can't imagine being any more excited for a group than I am this one. They work hard and compete and with that this year should be fun."