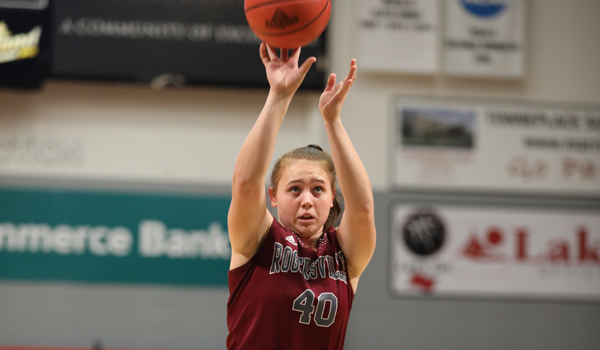 By Dana Harding (For OzarksSportsZone.com)
To say the 14-14 Lady Wildcats went through quite a few changes last year would be an understatement.
Following a third-place finish at state in 2019, Rogersville graduated its entire starting lineup and said goodbye to long-time head coach Denny McHenry, as well.
With Matt Bolger's departure after a single season, new head coach Jeff Dishman becomes the program's third in as many years for a program looking to reestablish itself.
A staple for Walnut Grove sports programs over the past nine years, Dishman's first order of business will be restocking another lineup decimated by graduation losses.
Sophia Nixon, Shelby Ince, Shayley Dunavant and Jessy Bond all move on from the program, with Nixon and Dunavant earning all-conference honors last season.
Despite the holes in the lineup, Dishman has high hopes as he looks to rebuild.
"I'm super excited about the numbers we have interested in the program," Dishman said. "The girls have come in and been very receptive to a new style of coaching, and everything we do is and will be completely different than what they are used to. If we can keep the numbers up, we can build something here."
CLICK HERE FOR ALL OF THE WINTER SPORTS PREVIEWS
Those numbers begin with a trio of senior leaders in Jessi Jenkins, Laiken Leonarduzzi and Lilli Caldwell.
Jessi Jenkins, 5-foot-7
"Jessi has played behind some really good players in her three year career," Dishman said. "She will be looked upon to handle the ball, get us where we need to be and guard the other team's best player."
Laiken Leonarduzzi, 5-foot-7
"Laiken, like Jessi, will be asked to handle the ball and get us where we need to be," Dishman said. "For us to be successful, Laiken needs to play very well."
Lilli Caldwell, 5-foot-9, 5.0 ppg, 3.0 rpg
"Lilli has a great motor, and she can flat rebound the basketball at both ends," Dishman said. "She is also a very capable shooter, and we will look for her to score as well."
Juniors Gracie Kibby, Kierra Clark and Lauren Williams also return to the roster.
Gracie Kibby, 5-foot-9, 5.0 ppg, 3.0 rpg
"Gracie has the ability to get to the basket as well as shoot it with range," Dishman said. "Being a returning starter for us in some games, we will look for her leadership early in the season to help get us through."
Kierra Clark, 5-foot-10, 5.0 ppg, 5.1 rpg
"Kierra is an athletic post player that we will want to get out and run the floor," Dishman said. "At almost six rebounds per game, she can control the boards."
Lauren WIlliams, 5-foot-10
"Lauren missed time last year with a concussion," Dishman said. "She is healthy and has the ability to dominate a game. A post player that can run the floor and a match-up problem if she is engaged."
Finally, if the program didn't already have enough returning size, Rogersville also welcomes back a pair of 6-foot sophomores in Cassidy Coambes and Chayse Barron.
While the Lady Wildcats may struggle to find an identity early, Dishman believes the experience from those early struggles will pay dividends down the road.
"We have eight players returning with two or three that started multiple games last year," Dishman said. "I think that getting all of our kids some playing time early and often could be very beneficial in the late part of the season."
With a difficult schedule, Rogersville will be tested early; however, Dishman believes his team is more than capable of competing each and every night.
"We have a good mix of height and speed, so we're excited as staff to get into the gym and start the season off," Dishman said. "As a team they're hungry to get out there and play — most of them have been waiting a few years to get their chance."
Rogersville opens its season Nov. 30 in the Fair Grove Invitational Tournament.