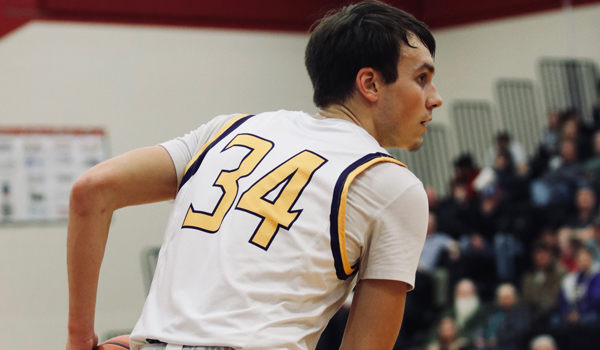 By Chris Parker
Sarcoxie posted a 22-6 record last year behind a deep group of seven seniors that included three all-conference selections. That group helped lead Sarcoxie to its first conference title in 21 years and first back-to-back winning seasons since 1999-00 and 2000-01.
"These guys were by far the most committed group of basketball players I have had the privilege to coach," head coach Andy Hogenmiller said. "I have had some other players individually as committed, but as a group this group was outstanding. I can't thank them enough and they should be proud of what they accomplished."
Senior Michael Misner returns as a team leader. He was all-conference and all-district two seasons ago. Last year, Misner averaged 10 points and 3.7 rebounds per game.
"Mike is a great player who struggled at times last year, but picked it up big for us the last half of the season," Hogenmiller said. "I look to see more of that player and then some this season. He will have to want to be the man and our leader."
Fellow senior Justin Mandera will be in his first year on varsity.
CLICK HERE FOR ALL OF THE WINTER SPORTS PREVIEWS
"Justin is a player that hasn't got the opportunity to play varsity until now, his senior year. But with that said, he loves to win and compete," Hogenmiller said. "I look for him to do a bunch of gritty things for us and be one of our leaders both through his voice and his effort when he's in the game."
Junior Drake Acheson returns with the second-most varsity experience. He was the second player off the bench last season. Acheson averaged 2.2 points, 1.5 rebounds and 1 assist per game.
"Drake has been a good player for us that has filled whatever role needed his first two years," Hogenmiller said. "We will now look to him for much more especially him to score the basketball for us. He's a strong, physical player that can play and guard multiple positions."
Jaron Malotte is a sophomore guard that would have seen more time as a freshmen if it weren't for all of the older kids ahead of him.
"Jaron will be our point guard this year and handle the ball a ton for us," Hogenmiller said. "He is a great athlete that can and will have to do a lot of different things for the team to get to where we want to be. He will compete his tail off."
Juniors Terio Asterio and Tyler Cupp will be two other players looking to step up to varsity this year.
"Terio adds even more athleticism. He is very quick and has improved his handles and his shooting ability," Hogenmiller said. "Tyler is an absolute joy to coach. He seems to always be in the right spot and never have to worry about his effort. He makes up for his lack of size with his shot making and basketball IQ. (I) can't wait to see him on the varsity floor."
Sarcoxie will be searching for its identity early in the seasons, as the Bears work to get many new players used to playing on the varsity level.
"It's going to take a bit to figure (our identity) out. We probably won't have our highest returning scorer for the first month or so of games," Hogenmiller said. "We should be pretty athletic and can run if needed. But with that athleticism we can and should be able to guard anyone we play."
Sarcoxie opens the season Nov. 30 through Dec. 5 at the Diamond Tournament.
"Expectations are still high," Hogenmiller said. "Yes, we lost several great players, but I believe these players that will be taking over, have a chip on their shoulder and want to keep the train going."