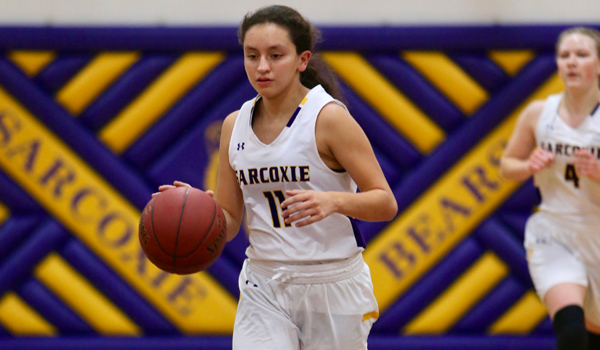 By Chris Parker
Sarcoxie girls basketball returns one of the best scorers in the area in Anette Ramirez. Ramirez averaged 27.9 points per game last year to go with 5.5 rebounds, 4.3 steals and 2.1 assists per game.
"Annette is expected to lead our team in attitude and experience. We know statistically Annette will be a leader, but what makes her an exceptional player is her ability to rally her teammates and create a spark in them," Sarcoxie coach April Ellis said. "She has a great ability to be aware of the clock and positioning. She is like having an additional coach on the floor."
She will look to help the Lady Bears improve on last year's 12-12 finish.
Myra Caddick returns for her third season as a starter at guard in her junior season. Last year, Caddick averaged 4.5 points, 4 rebounds, 3 assists and 2.1 steals per game.
"I expect Myra Caddick to become an extensive offensive threat this year," Ellis said. "She has the ability to create steals and turn those into lay-ups while also being a threat from behind the arc."
Fellow junior Jacey Roth will look to control the paint for Sarcoxie.
CLICK HERE FOR ALL OF THE WINTER SPORTS PREVIEWS
"Jacey Roth has a great deal of knowledge about the program and what we are trying to accomplish," Ellis said. "Her ability to execute what we are asking of her and to be able to post down low will be a great relief for our guards."
Sophomores Kaylan Anderson (forward) and Kadence Flynn (center) gained varsity experience as freshmen. They will look to make even more of an impact in the paint this year.
Senior guard Tiah Cupp is a newcomer to the team this year.
"Tiah bring a great deal of knowledge and court awareness to the game. She is extremely coachable and doesn't take a play off. She will be a great addition to our team," Ellis said.
Sarcoxie will open the season on Nov. 23 at home against Hurley.
"We hope our identity comes from the defensive end of the floor and our hustle. We want Sarcoxie to be synonymous with the term hard work and hustle," Ellis said. "Our overall expectations of this team is to out-work whoever we play. We want to get out and push the basketball and create havoc on the floor."