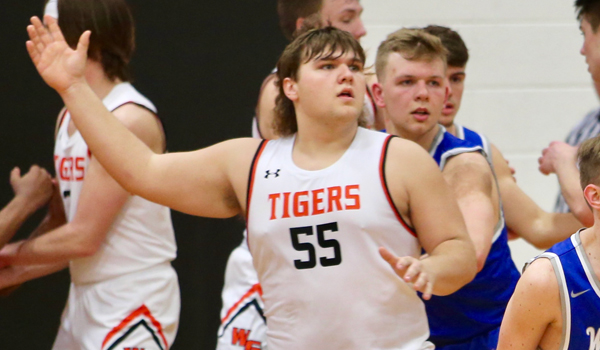 By Chris Parker
Walnut Grove boys basketball suffered its first losing season since 2012 last year, as the Tigers finished with an overall record of 9-17.
New coach Josh Harp will look to turn that around.
"I have been working in Walnut Grove for two years prior to taking over the boys program. Being a small community, I know the kids and just want what is best for them," Harp said. "Ideally I had planned on spending a few more years as an assistant prior to taking a head coaching position, but when I was approached about the position I found that it was one I couldn't walk away from."
This is Harp's first head coaching position after serving as an assistant for the Nixa boys program and as an assistant in the Walnut Grove girls program.
On the court, Zach Hejna returns for his senior season after earning second-team all-conference honors last season.
"Zach is a senior guard who is a natural leader and brings tremendous size and strength to the team, as well as being the most experienced letterman," Harp said. "With a young team, Zach will need to set the tone in physicality and competitiveness for his teammates."
Along with Hejna, Ethan Buckner will also be a team leader.
CLICK HERE FOR ALL OF THE WINTER SPORTS PREVIEWS
"Ethan works incredibly hard and brings a great attitude to the team," Harp said. "He is very encouraging to the younger guys and possesses a personality that is well-suited for a mentorship role."
Junior guards Michael Stogsdill and Cody Keith have both impressed in their off-season improvement.
"Michael is a junior guard who is very quick and fiercely competitive. 'Stoggs' is the motor of the team, and will be a big part of the culture that we are building at Walnut Grove," Harp said. "Cody is a junior guard who is athletic with a good shooting touch. Cody took a year off but has been working to get his game right and will contribute to the team's chemistry immediately."
Arturo Perpina Olivares and Tanner McMillen are two new players to watch on the varsity level.
"Arturo is a sophomore foreign exchange student from Spain who will be able to contribute to the team immediately. Arturo is a quick guard who passes the ball well and can shoot from the perimeter," Harp said. "Tanner is an incoming freshmen who brings good size and athleticism and could have a role on the team due to his work ethic and attitude. Tanner is one of three triplets who all figure to have significant roles on the team in the future. How soon they are able to contribute meaningful minutes depends on the speed with which they progress, and Tanner's athleticism gives him a slight advantage."
Harp will look for his team ready to come to each practice and game ready to work.
"The identity of this team will rest on their ability to work hard and play the game the right way. In order for this team to be successful they will need to play unselfishly and move the ball quickly, as well as play disciplined defense," Harp said. "There are capable athletes on this team, but overall they will need to rely on one another in order to be successful. Our upperclassmen need to be sold on building a program that will endure long after they have graduated, and our underclassmen are expected to be committed to fighting to send the seniors out the way the deserve."
Walnut Grove opens the season on Nov. 24 at Morrisville.
"Our top priority is to play the game the right way and establish the kind of culture that Walnut Grove's history is due and gives the program the best chance to succeed going forward," Harp said.