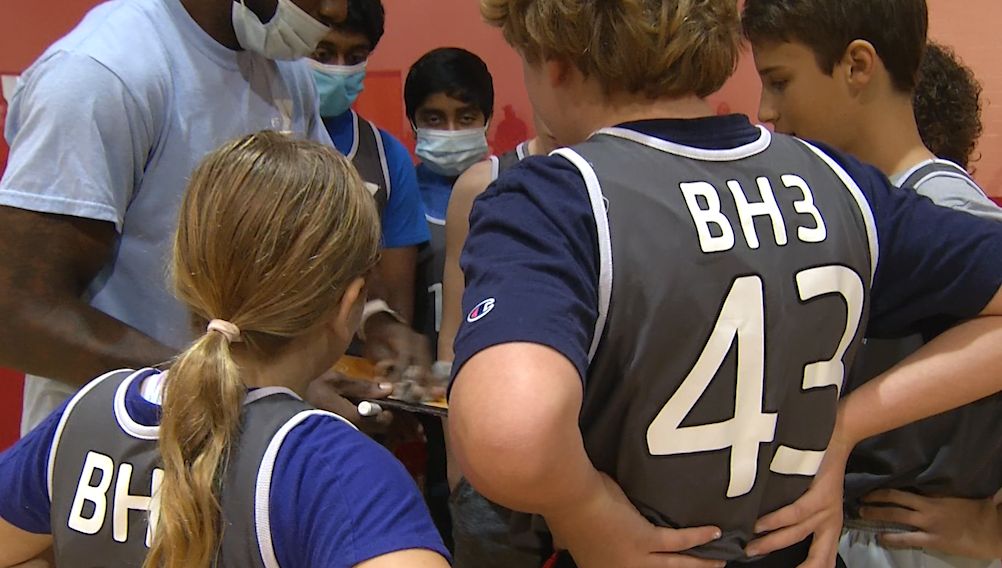 LITHIA, Fla. – On any given Saturday, the basketball courts at the Campo Family YMCA are filled with kids.
This controlled chaos starts bright and early and carries on through late afternoon. A lot of differences on the court coming together to play a game. Different sizes, different genders, different skill sets. And one special similarity.
These young players all wear the initials of a former YMCA baller on the back of their jerseys. A teenager they more than likely never met, but someone who was just like them. Someone who lived for those Saturdays when he could run up and down the court with a basketball.
"We signed him up at the Y. He played his first season and loved it," Brad Hulett said.
Bradley Hulett didn't just play basketball. He lived it. It appealed to every part of him. He liked the action, the strategy. And the stats fed his math nerd needs.
"He had decided pretty much that he wanted to go to UCF and study analytics, basketball or sports analytics," Hulett said.
Bradley was a shooter, a three-point specialist. And the Fish Hawk Trails outdoor courts were a popular destination for the boy who wore No. 3.
"A leader on the court, an athlete," Ryan Eckley said. "Always knew how to make a play. It was always impressive."
Bradley was the glue that kept this group together. This brotherhood revolved around their pint-sized point guard.
"More than a friendship, more like brothers, closest friends," Eckley said. "I mean, it was all people he was comfortable around, best friends around. It was a great bond."
Ryan misses his best friend. He misses the goofing around. The shoot-arounds and the smart alec jokes. He just misses Bradley.
"What do I miss most? That's a good question," Eckley said. "The reliance, like always having someone there for you. Always having a best friend, closest person to you."
On December 13, 2019, Brad Hulett got a knock on his front door that changed everything.
"I answered the door," Hulett said. "There was a police officer and he said I need you to come with me, I'm supposed to transport you to Brandon Regional Hospital."
The next several hours blurred together. Brad Hulett learned his oldest son had been shot in the head while he was playing video games at a friend's house. The house and the gun happened to belong to a Tampa police officer.
"I remember when they told me what it was, I couldn't understand," he said. "It took me a minute to get myself physically where I would not vomit and go on and put one foot in front of the other."
He found a social media outlet to help cope with the grief. Brad started a Justice For Bradley Facebook page where he and his wife Meagan pour out their hearts and sometimes, their brutal honesty.
"I just made it my mission that you know what, come hell or high water, I'm going to get the truth," he said.
There will be a trial. The teenager who shot Bradley has been charged with manslaughter. But no amount of justice can fill the void left behind.
"Since he's been gone, you start to see what the hole is," Hulett said. "Obviously we know what it is but all of his friends, all of the people who were around him, it's different."
Tributes to Bradley are everywhere. His travel team changed their name to BH3 in his honor. And Bradley's best friend Ryan Eckley switched his Newsome football jersey number to 3.
"To me, it's more than a jersey now," Eckley said. "It's a part of me, it's a part of who I am. I keep it over my heart. It's just something I take pride in."
The BH3 on the backs of all the Campo YMCA jerseys yet another way to keep Bradley's legacy alive.
"The good part that's come out of all of this, if there is such a thing, is we're starting to see people do more for others," Hulett said.
Another basketball season's tipped off. But this one goes on without one of it's biggest fans. Bradley would have been in the middle of all the action. Now he's got a different view.
"I really miss my son, you know," Hulett said. "I wish he was here. If you just look at the impact he's having in death you can kind of get an appreciation for just how important he was in life."