By Jerry Ratcliffe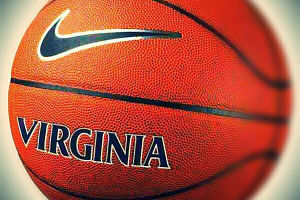 Four-star combo guard Isaac McKneely will announce his college decision at 2 p.m. on Saturday, and we predict he will be a Virginia Cavalier.
McKneely's final list out of 24 offers is Kentucky, North Carolina, Indiana, West Virginia, Louisville, Purdue, but we are convinced he'll be wearing a UVA uniform in the future. He has been the Cavaliers' No. 1 recruiting target for the Class of 2022.
A native of Poca, West Virginia – his high school team is the Poca Dots – McKneely is a perfect fit for Tony Bennett's program, not only as a player but as a person. In fact, Poca coach Allen Osborne runs a system most similar to Virginia's.
While Osborne used to run Terry Holland's offense back when Osborne first got into coaching, and ran that offense for quite a while, he has moved on just as Virginia's basketball program.
"When Kyle Guy was a freshman, we came down and watched Virginia practice for a couple of days," Osborne said during an interview on Friday afternoon. "Coach (Brad) Soderberg (UVA assistant) spent a day watching film with us, which was very nice."
Osborne and the Dots have run Virginia's mover-blocker offense ever since.
"We try to play the Pack-Line, too," Osborne said. "So if Isaac goes to Virginia, he'll have an idea. He won't be confused when they tell him to get the gaps."
The coach said McKneely could develop into a dominant defender down the road.
Osborne first got involved with Virginia when Kyle Getter, the Cavaliers' director of recruiting and player development, was at Liberty. The Flames were recruiting Elijah Cuffee, a Poca player. UVA later flirted with another Dot, Luke Frampton (Western Kentucky), and the connection continued on.
McKneely is headed into his junior year at Poca High School, which will begin its basketball season in early March due to the pandemic shutdowns. He won't be the same player that his opponents will remember from last season.
"Isaac was 6-2, 150 pounds last season, but over the summer he grew to 6-4 and about 175 or 180," Osborne said. "Talk about positives coming out the pandemic, Isaac didn't play summer AAU ball, so he stayed around here and got involved in the weight program and worked on his skill development and took his game up a couple of levels."
McKneely will be a combo guard in college, just as he will be at Poca this season. Teamed with another guard who is attracting Division I offers, McKneely fits Poca better as a combo guard but can play either the point or the shooting guard spot.
McKneely played the point as a freshman but he's actually more of a shooting guard.
"He's good at coming off screens and shooting the ball, and he can drive it," Osborne said. "He can play point, he can handle it, but he's so athletic on the break that he can take it to the rim and finish. But he's also good with the ball in his hands."
The Poca coach couldn't praise McKneely enough.
"He's such a smart kid, good student (4.0 GPA), great family, handles it, shoots it, defends well. He's an outstanding shooter," Osborne said. "He can shoot the 3, pull up off the dribble and shoot. He'll take it to the rim. He's made me a good coach (laughing)."
Poca has an outstanding team with four Division I athletes in the lineup, both guards and then two post players (one going to Marshall on a football scholarship) and a tight end being recruited by Division I schools.
Osborne said that McKneely would "fit well" in Virginia's style of play.
Some recruiting analysts have compared McKneely to former UVA star Joe Harris, now one of the NBA's top 3-point shooters.
There's another aspect of McKneely's game that is reminiscent of Harris.
"What I really like about Isaac is that he wants the ball at the end of the game," Osborne said.
Does that remind you of anyone? Harris, Ty Jerome, Kyle Guy, Sam Hauser?
"When Isaac was a freshman, we're in our sectional tournament, we're down one and he drove to the basket, missed, another guy tipped it in and we won," Osborne said. "In last year's sectionals championship game, Isaac came off a couple of screens and hit a big 3-pointer that went the game into overtime.
"I think that's the most amazing thing for a kid that age to do that. He's made some spectacular plays and some big-time dunks."
Osborne said that McKneely is such a humble kid that one would never know he's being recruited, that he's almost embarrassed by the attention of all the college offers.
"He's just a good kid," Osborne said. "The kind of kid you'd want to marry your daughter."
While some were somewhat surprised that McKneely elected to announce his college choice before his junior season began, Osborne said he thought it was a good idea.
"We sat down and talked," the coach said. "He really wanted to make some visits (but the pandemic eliminated that thought). He did go to two Virginia games last year, and he and his family went down a couple of weeks ago, looked around and drove around campus and the city.
"Not long after that, Isaac told his mother he wanted to make a decision. I told him that if you're sure, there's nothing wrong with going ahead with it, then you can concentrate on becoming a becoming a better player."
McKneely and his family like Virginia's program, the coaching staff, and Charlottesville.
All the pieces seem to fit perfectly for McKneely to become a Wahoo. We expect that will be his call on Saturday afternoon.