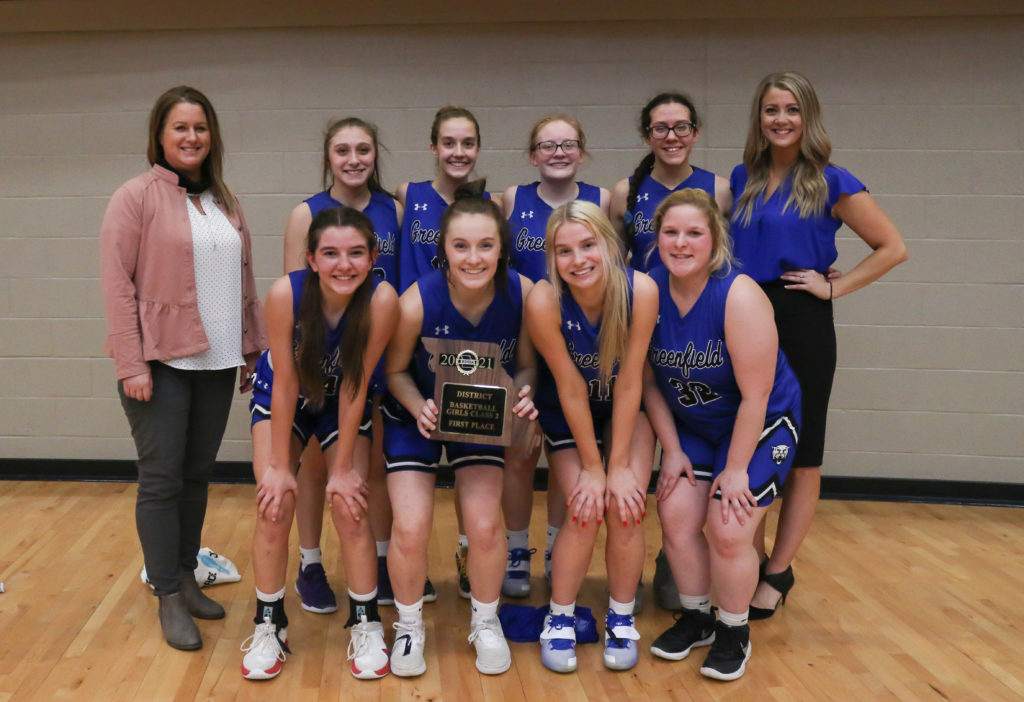 By Brock Sisney (For OzarksSportsZone.com)
WEBB CITY — Greenfield head coach Loganne Hickman said that it had been 26 years since the Lady Wildcats had last won a district title in girls basketball.
Early on during their Class 2, District 12 championship game Friday night against College Heights, it did not look good and definitely not like a historical night for the Lady Wildcats.
Greenfield fell behind 7-1 before putting together a 7-0 run of its own for a 8-7 lead late in the first quarter and then the Lady Wildcats engineered a 21-0 scoring run over the second and third quarters to build a 34-15 lead en route to a 58-44 victory at the Cardinal Dome.
"I feel great, but I'm really hot and I'm kinda regretting wearing heels," Hickman said. "These girls, this is my first group that I've had all the way from junior high through senior year, so it's nice to see what you saw of them in seventh grade translate to the varsity game and for them to finally get something (accomplished) that we've been talking about for so many years. I don't know what's going to happen next round, but it's nice to send our seniors off in style. I've got four seniors and it's awesome to send them off with something they'll never forget."
Greenfield's seniors are Morgan Wright, Jasmine Whaley, Ashley Daniel, and Teresa Feezell. The Lady Wildcats (21-6) advance to sectionals, where they will face Blue Eye (22-5) on Wednesday night.
CLICK HERE FOR PHOTOS OF THE GAME
Friday night proved to be a war of attrition for College Heights, since the Lady Cougars had five players foul out before the evening was over. Catie Secker was the first to pick up five personal fouls with 3:29 remaining in the third and her fellow senior Lainey Lett joined Secker on the bench for the rest of the night before the end of the third. Two more seniors, Kaynahn Burk and Grace Bishop, and sophomore Addie Lawrence fouled out in the fourth.
"When we scouted (College Heights), we knew he (College Heights head coach John Blankenship) liked playing only six kids," Hickman said. "That was the goal, especially get the bigs out because we're not a very big team. Having good position and getting those little hand fouls ended up going our way this game. That was in the game plan, so my girls executed really well."
Again, early on it seemed like it would be Greenfield struggling through foul trouble. At the end of the night, the Lady Wildcats had just a single player foul out.
Greenfield scored mostly in transition and off dribble penetration during their game-changing run, and of course scored most of their points in the fourth at the stripe as College Heights rallied their reserves for a late charge.
Greenfield sophomore guard Marlie Wright scored a game-high 28 points, Tatum Torres recorded a double-double with 11 points and 16 rebounds, and Trista Torres added nine points before fouling out.
Greenfield snapped College Heights' 12-game winning streak and handed the Lady Cougars only their third defeat this season.
Sophomore guard Jayli Johnson led College Heights (22-3) with 18 points and Bishop added 12, her final two points scored not long before she fouled out.