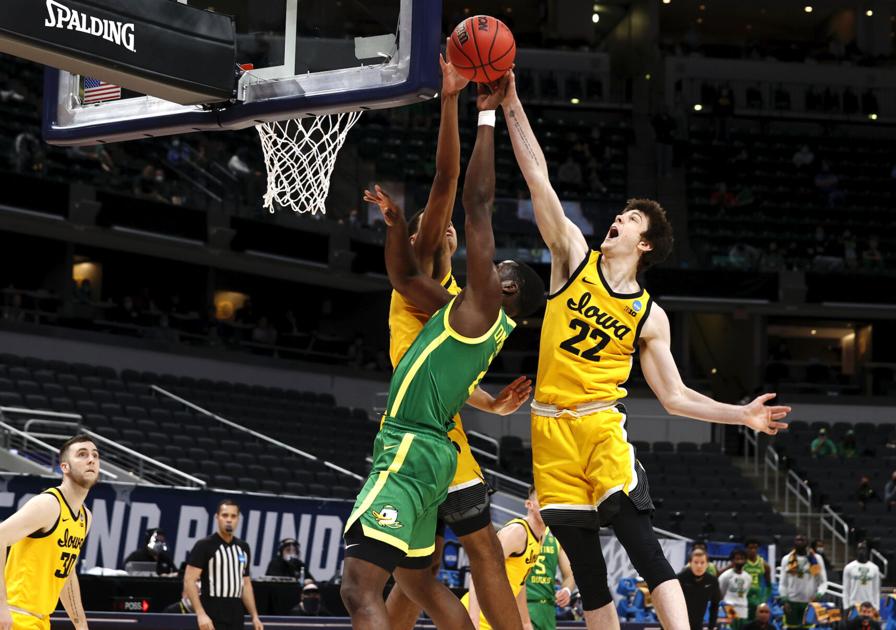 Luka Garza said goodbye on Monday.
So did Jordan Bohannon.
Joe Wieskamp didn't commit on whether he was coming back.
Iowa's 95-80 loss to Oregon in the second round of the NCAA tournament ended one era for the program, and began the transition to a new one.
The Hawkeyes were in the top 10 of the national rankings all season thanks to a veteran roster than had more than 11,000 minutes of court time.
The look will be different next season. There's experience, just not as much. And there will be a battle to fill holes in a starting lineup that has been consistent in the last three seasons.
Breaking down some of the offseason storylines:
• Will Joe stay or go? Wieskamp tested the NBA draft process after his freshman year, but didn't during the last offseason.
Whether the 6-foot-6 guard/forward decides to return for his senior season remains to be seen.
"I appreciate that question," Wieskamp said after Monday's game. "At this time, I'm just soaking in what just happened. I'll address that at a later time."
Wieskamp averaged 14.8 points and 6.6 rebounds this season. If he leaves, it means the Hawkeyes' top three scorers from this season — Garza averaged 24.1 points and Bohannon 10.6 — will be gone.
• The frontcourt evolution. Iowa's frontcourt will have a different look next season.
Jack Nunge, at 6-foot-11, will be coming off a knee injury that ended his season. He was a key part of the Hawkeyes before he got hurt, averaging 7.1 points in 22 games. If he can stay healthy, he'll likely move into a starting role, something he did as a freshman.
Keegan Murray and Patrick McCaffery look destined for bigger roles. Both played all 31 games, combining to average almost 33 minutes per game. Murray had four starts, and McCaffery's playing time increased after Nunge's injury. They're both young — Murray will be a sophomore and McCaffery will be a third-year sophomore.
Murray's twin brother, Kris, also may see more playing time. Josh Ogundele played in just eight games in his freshman season, but with a full spring and summer of workouts, could develop into a solid post option.
• The backcourt evolution. Much depends on Wieskamp's decision, but the Hawkeyes have plenty of guard options returning.
CJ Fredrick started all 27 games he played in, but spent a good chunk of the Big Ten season dealing with a lower leg injury that sidelined him for four games. He made 47.4 percent of his 3-point shots this season, and when he was healthy was one of the team's best defenders.
Connor McCaffery made all 31 starts, but he was playing with a torn labrum in both hips at the end of the season and will require offseason surgery. He had a 3.73 assist-to-turnover ratio this season, and has proven to be a versatile player capable of playing four different positions.
Joe Toussaint figures to be in the mix for a starting spot as a junior — he started 20 games as a freshman. Freshman Tony Perkins was a reliable reserve, especially late in the season, and Ahron Ulis got playing time in key spots. All three should see playing time increase.
• Watch the portal. The NCAA's transfer portal is starting to get crowded as teams end their seasons. It's unclear if any of the current Hawkeyes go, but will coach Fran McCaffery go to the portal looking for a veteran post player to replace Garza?
• A normal season. The COVID-19 pandemic made this anything but a normal year. That should change.
The Hawkeyes didn't have spring workouts after last season's NCAA Tournament was canceled, but they should be back to a somewhat normal April routine. The summer may not be as chaotic. And by the time next season rolls around, Iowa and the rest of the Big Ten should be back to the usual 31-game regular season, with fans in attendance.
Garza leaves as a two-time Big Ten and national player of the year, and as the program's all-time leading scorer. But he said on Monday he knows what he leaves behind.
"I was trying to tell those guys, the next time that they get back there, back here, they're going to be able to push us to where we need to go," he said. "I couldn't do it, but they can, and they're all a bunch of hard workers and they're going to be able to do it."
"I think we have a really good core of young guys who experienced what it's like to have winning people in your program and how to prepare and how to compete, so I'm really excited for the future," Fran McCaffery said.