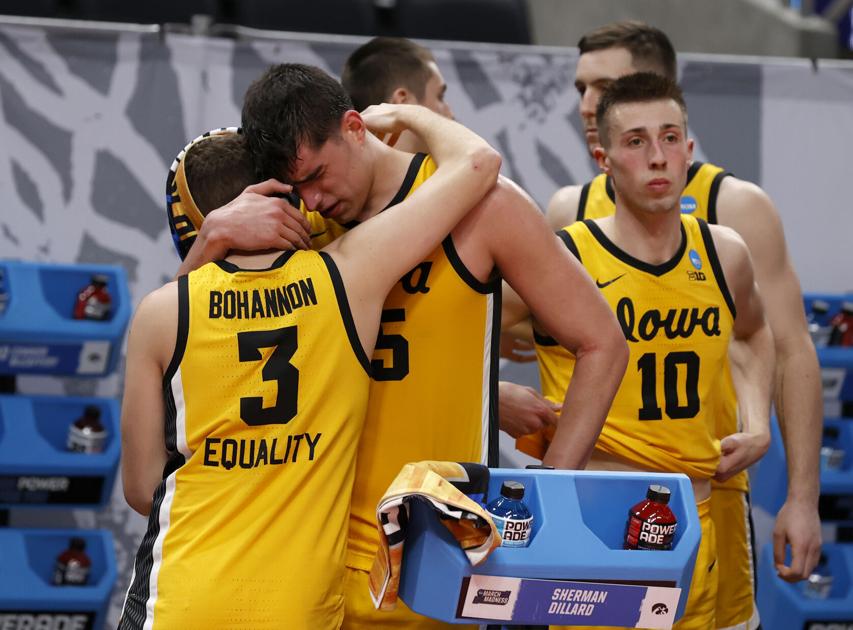 Luka Garza left history behind as he walked off the court for the last time at Iowa.
He hugged teammates coming into the game before shaking hands with Oregon coach Dana Altman.
And when Garza reached the Hawkeyes' bench, the senior center buried his face into coach Fran McCaffery's right shoulder, sobbing as McCaffery hugged him.
The end of a brilliant career, and the season end that came too soon, was enough to stir emotions at Bankers Life Fieldhouse on Monday.
Iowa's 95-80 loss to Oregon in the second round of the NCAA tournament on Monday was a crushing finish for Garza and the Hawkeyes, a 2 seed who became the latest casualty on a bracket that has claimed so many of the best teams in the nation so far in the first weekend.
"Our season," Garza said, "wasn't supposed to be over today."
But it was over. The Hawkeyes, who finished 22-9, were prepared for a long stay in Indianapolis, but their bubble closed with the hard reality that March provides.
"It's been an incredible journey with this group of young men," McCaffery said, when describing the scene in the locker room after the loss. "A lot of people telling each other how much they love them. I certainly did. And how proud I am of them."
Garza, a two-time consensus first-team All-American who finished as Iowa's all-time leading scorer with 2,306 points, had 36 points in his last game. He was 14-of-20 from the field, 5-of-7 in 3-pointers.
Garza, Oregon coach Dana Altman said, "just ripped us up."
But Garza didn't get much help from other Hawkeyes. Joe Wieskamp had 17 points, and Patrick McCaffery added 10, but the Iowa perimeter attack that had been so efficient for most of the season was nonexistent. The Hawkeyes were just 8-of-25 in 3-point shooting, 5-of-14 in the second half.
That, Altman said, was the plan — let Garza go, and swarm everyone else.
"We really wanted to make sure that they didn't get the threes going and beat us from the 3-point line," Altman said. "We knew we didn't match up inside with (Garza), so we just wanted to make sure the threes didn't kill us, and I thought our guys did a tremendous job with focus and talking on the defensive end the second half."
It was clear this was going to be an up-and-down game. There were 10 lead changes in the first half, but Oregon scored the final 10 points for a 56-46 halftime lead. The Hawkeyes were going to have to play catch-up, and that was going to be difficult since they couldn't find a way to defend the Ducks.
Four Oregon players scored in double figures, led by Chris Duarte's 23 points. The Ducks shot 55.9 percent from the field, 44 percent in 3-pointers. Their offense was crisp, seemingly always one step ahead of the Hawkeyes.
"When they're driving and kicking and hitting shots, they're really tough to defend," Wieskamp said. "We, as a team, didn't do a great job, and they were hitting shots."
"Anybody can bring it," Fran McCaffery said of Oregon's offense. "Anybody can go. Everybody makes threes. They spread you out. It's a hard team to cover in so many different ways.
"They stretch your defense. We tried man, zone, we tried pressing them, had moderate success with all three, not enough in any one."
"They try to speed the game up really fast, and we can play that fast, and obviously we showed that our offense had no problem today, we were able to score whenever we wanted to, but they pushed the pace really fast and made it hard for us to be able to get back and rotate and do all the things we needed to do to be able to get stops consistently throughout the game," Garza said.
"And obviously that's what led to us not being able to win this game, is just we weren't able to get the stops necessary to do so. That's unfortunate, but credit to them — they really moved the ball around well. And we knew they were a good offensive team, but they played really, really good. And they had a really good game plan, and they tried to move the ball as much as they could."
The Hawkeyes were playing their second game of the tournament, while Oregon advanced out of the first round after 10th seed VCU could not play because of COVID-19 issues within its program.
Senior guard Jordan Bohannon, Iowa's all-time leader in 3-point goals and assists, went scoreless in 18 1/2 minutes, missing all four shots he took.
Wieskamp, who injured his right ankle in the regular-season finale against Wisconsin, hurt his Achilles tendon in the second half. CJ Fredrick, bothered with a lower-leg injury all season, did not play in the second half. Connor McCaffery played just two second-half minutes — Fran McCaffery said Connor has torn the labrum in both hips and will require offseason surgery.
So much, then, was left to Garza. His pain, at the end, was too much for him.
"You know, it's heartbreaking," Garza said. "It's so surreal that it kind of just all hit me at once that this is the last time that I'll put on this jersey. That hurts a lot.
"I just feel bad that I wasn't able to lead this team to where it needs to go, and we did a lot of really, really good things this year, and it just hurts that we weren't able to do it when it mattered most, and that's something that's going to haunt me forever."
"It's been an honor," McCaffery said when asked to describe Garza's legacy.
What Garza left behind was history. Garza was a two-time Big Ten and national player of the year, and his jersey number 55 will be retired.
It was so much. It was not enough, Garza said.
"I felt like this was a team where our season wasn't supposed to be over today," Garza said. "That's upsetting to me because I just … everybody in that locker room worked so hard to be able to get back to this moment, and it's upsetting that we couldn't be able to excel and win the game. That's obviously the most upsetting thing.
"It's just … obviously I love the University of Iowa. I love my teammates. I love my coaches. These guys changed my life, and I worked as hard as I could, and I played as hard as I could. And obviously it just hurts that it's over."