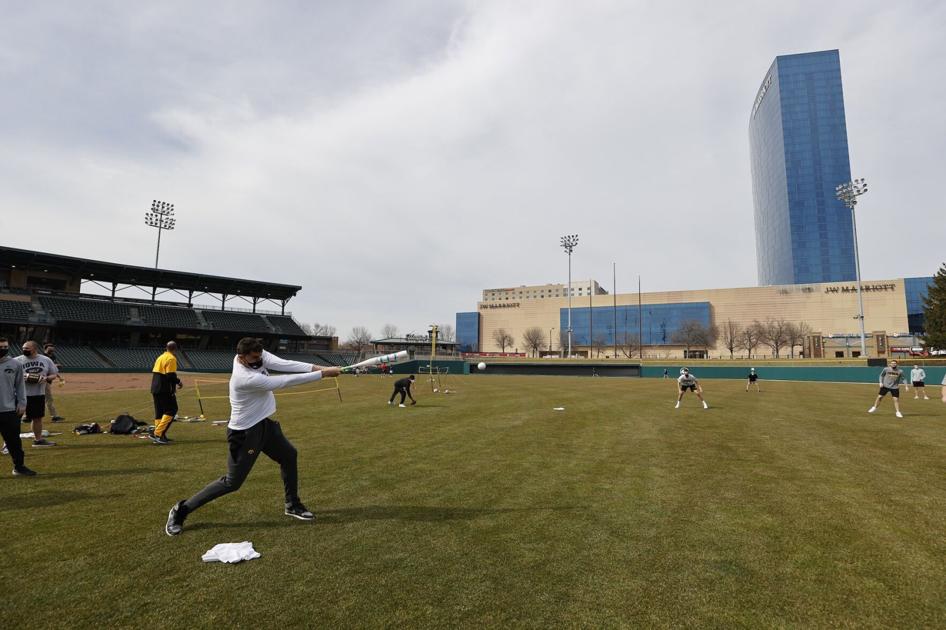 It was only a wiffle-ball game.
But Iowa's players and coaches got to get out of their hotel in Indianapolis for some fresh air on Wednesday afternoon at nearby Victory Field, home of the city's Triple-A minor-league baseball affiliate.
Hey, it's something.
NCAA Tournament trips aren't usually about sightseeing anyway, but in the year of the COVID-19 pandemic, anything outside of the hotel is a luxury.
It's not a "bubble," the NCAA will say, but it is, and the Hawkeyes are hoping that even though it's a bit uncomfortable, they'll get to stay in it for a while.
"It's definitely been interesting, to say the least," guard Connor McCaffery said during Wednesday's media availability.
The Hawkeyes, a No. 2 seed in the tournament, have been in Indianapolis since last week, when they arrived for the Big Ten tournament. But until they play Saturday in their first-round game against 15th-seeded Grand Canyon, their routine is the same.
Now that they've had their first COVID-19 tests and out of official quarantine, the Hawkeyes are still limited in what they can do.
They can't leave their hotel floor other than for meals and practice. The trip to the ballpark was something extra.
"You can't go outside," McCaffery said. "No leisurely walks on a nice day. You can't even walk around the hotel — you get escorted everywhere."
The escort makes sure the Hawkeyes stay isolated.
"Can't walk around," McCaffery said. "No talking to people. See a friend — 'Nope, sorry.' It's just kind of been a crazy experience. But it is what it is. I think it's just something they needed put in place to make sure this was all able to work. So we've got to deal with it the best we can."
It's really not that much different than what the Hawkeyes have been dealing with all season, when a positive COVID-19 test could have put the season on pause.
"I think these are things we've been avoiding all year to make sure we stay safe and aren't exposed, or anything like that," center Luka Garza said. "I think we've gotten used to this lifestyle by this point. We're all here for a reason. We know what we want to do. We're very excited about the opportunity to get out to play."
The Hawkeyes practice at the nearby Indiana Convention Center, which is connected to the hotel by a skywalk. In there, they have a practice court and an area to lift weights.
They haven't seen their first-round site yet — the Indiana Farmers Coliseum.
That will come later in the week.
"It's pretty much business as usual, except we're not leaving the facility," Iowa coach Fran McCaffery said.
In a lot of ways, it's no different than any other NCAA Tournament trip.
"Their time is pretty regimented," McCaffery said. "There's just a little bit more down time for them right now, which they probably don't care for. But we all recognize it's critical we handle our business this way."
The NBA, NHL, and Major League Baseball had similar postseason setups.
"The biggest thing I've been thinking about is a lot of teams talked about the Lakers during the NBA bubble," Connor McCaffery said. "They just said they were the best team to embrace that whole experience, and they were able to come out of it with a championship. They didn't think about things going wrong — they completely embraced it. They had fun with it. They were the ones who stayed in there the longest and won a championship. That's something we can try to replicate."
Garza, in his final games with the Hawkeyes, is appreciating the time he's getting to spend with his teammates.
"It's fun," Garza said.
There is work to be done though, and it starts this weekend.
"We have a chance to do something special if we play like we're capable of," Garza said.