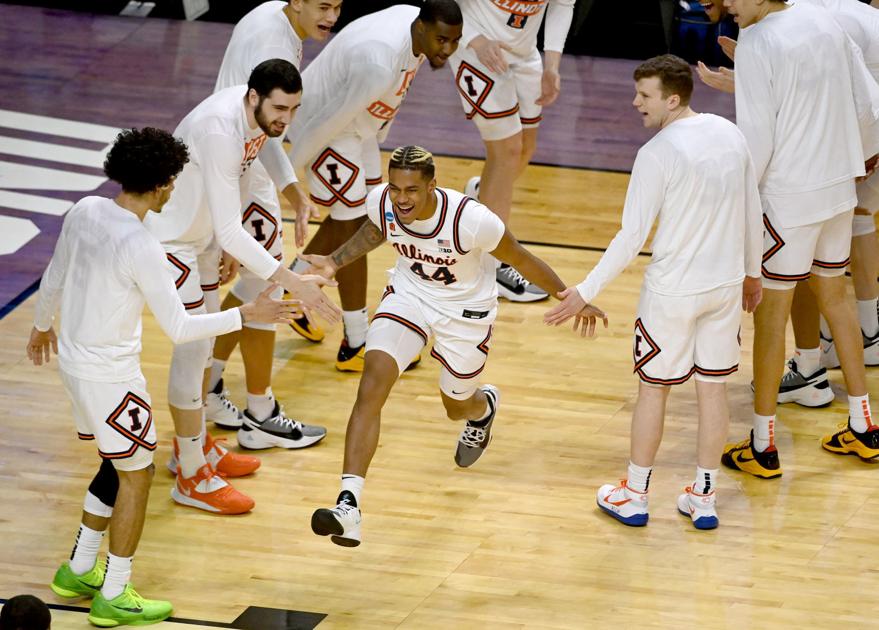 "I've just learned that a handful of college basketball players are electing to not enter the transfer portal." — Scott Beatty, WDWS 1400-AM
If you enjoyed the NCAA shockers delivered last month by Oral Roberts, North Texas, Ohio, Abilene Christian and, oh yeah, Loyola Chicago — two Rambler victims, I forget — don't expect so many fun surprises in the future.
Top players are storming the portal like coronavirus-denying Notre Dame football fans after their double-overtime upset of No. 1 Clemson last November.
Hope no one gets crushed in the melee.
It is a sad time. Loyalty went out with monogamy. Commitment faded with that old habit of funding the police. With some exceptions, every player would prefer to be somewhere else … performing for NBA bucks, stepping up to better competition, stepping down for more playing time or just going sideways because the coach is a meanie.
Mid-major programs are sustaining the most serious setbacks. Actually, the official rule change is pending, but liberalized NCAA waivers already make it automatic for eligible stars to transfer (one time) without spending a year in residence.
With 1,200-plus already in the portal, that averages out to nearly four players per school (FOUR!) … with standouts like Mid-American Conference Player of the Year Marreon Jackson (18.1 points) of Toledo and 6-foot-9 Tre Mitchell (18.8 points) of UMass leading the way.
Indiana's Hoosiers will retain or find replacements for a half-dozen squadmen who entered the portal. Smaller schools won't be so fortunate.
Didn't see that coming
On the home front, Illini fans are still trying to recover from the shock of freshman Adam Miller joining the rush toward a greener pasture.
We weren't reading the signs. While he was a season-long starter and enjoyed three-point splashes, Miller came out early and was often on the bench during pressurized finishes.
He produced six points and no assists when Trent Frazier and Andre Curbelo combined for 39 points in the 76-53 triumph at Michigan. He played just 15 minutes in the Big Ten tournament clincher against Ohio State.
While showing athletic promise, Miller handed out just 25 assists in 31 games, converted only 26 free throws all season and hadn't yet fashioned a mid-range jumper or breakdown skills off the dribble.
Meanwhile, Florida's backup center Omar Payne (6-10) has joined the Illini. Miller and Payne are part of a sweeping attitudinal change that has players flexing their muscles in a college game that was long known for autocratic rule by strong-willed coaches.
Big Ten transfers add up
Lon Kruger's unexpected decision to retire at Oklahoma was unquestionably influenced by this swing toward "free agency."
Reports also surfaced that Roy Williams had similar concerns about "where the game is headed" in stepping down at North Carolina.
Who wants to resurrect the team from scratch every year? OK, John Calipari, maybe. But that didn't work out so well for Kentucky this year, did it?
Coaches are near unanimous in their unhappiness. They like their paychecks, but they see it as a major loss of control.
Within the Big Ten, more than 40 players, many of them starters, have entered the portal already.
My hypothetical squad of 13 available players (13 is the scholarship limit) could challenge for next year's Big Ten title. It features third-team All-Big Ten guard Marcus Carr, a 19.4 scorer for Minnesota, and 6-11 Myles Johnson, the league's top post defender for Rutgers.
In addition, we have forwards Miller Kopp (11.3) of Northwestern, Teddy Allen (16.5) of Nebraska, Seth Lundy (10.1) of Penn State, Jamal Mashburn Jr. (8.2) of Minnesota and Nate Reuvers, a third-team all-league choice a year ago for Wisconsin. Backup centers are Penn State's John Harrar and Indiana's Race Thompson. Other guards among my 13 are Penn State's Myreon Jones (15.3), Rutgers' Jacob Young (14.1), Michigan State's Rocket Watts (7.7) and Indiana's Armaan Franklin (11.4).
Oh, almost forgot to add Miller, in case one of the above tests positive. As for Indiana's Al Durham (11.3), he has already hooked on with Providence.
No signs of slowing down
Carr, who may be using the portal as a backstop in case the NBA draft is disappointing, is rated by The Athletic's NBA expert Sam Vecenie as No. 1 in the portal.
Rounding out Vecenie's top 10 available collegians is junior Xavier Pinson, who scored 17 and 14 in Missouri's last two triumphs against Illinois. And right behind him is Nimari Burnett, 6-5 guard who has drawn Illini interest since he left Texas Tech after 12 games, but is now seemingly pointed toward Alabama.
Illinois, meanwhile, has made a major push for former Creighton commit TyTy Washington, and he is expected to announce his new college choice in the coming weeks.
Illini coach Brad Underwood is fielding a daily list of inquiries, some from athletes who are probing for interest but not yet in the portal.
So here we are, caught in a massive movement.
In the 1990s and through the early 2000s, AAU summer leagues played a major part in the gradual disintegration of amateur-collegiate loyalties.
It is now peaking. Long-lasting ties are passe. We may be reaching a point where these new carpetbaggers need to think twice when asked who they represent.