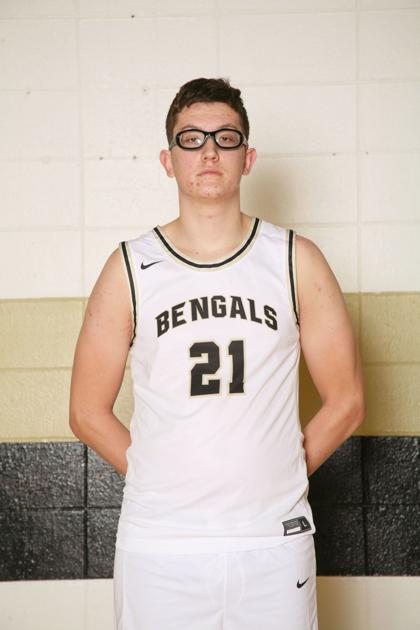 FIRST TEAM
PLAYER SCHOOL HT. YR. POS. SCOTT RICHEY'S COMMENT
Robbie Avila Oak Forest 6-9 Jr. F There's growing Division I interest in the big man after he put up 25.5 points, 11.5 rebounds and three assists per game and shot 65 percent as a junior.
Isaiah Barnes Simeon 6-7 Sr. G Barnes will follow up his one year at Simeon, where he averaged 18 points, eight rebounds and three assists, by being part of Michigan's No. 1 recruiting class.
AJ Casey Whitney Young 6-8 Jr. F Casey is top prospect in Illinois in the Class of 2022 and adjusted back to the Public League by putting up 18 points, eight rebounds and four assists this season.
Max Christie Rolling Meadows 6-7 Sr. G The McDonald's All-American and future Michigan State guard is a stat-stuffer, averaging 24 points, 10 rebounds, four assists, three steals and two blocks.
Kam Craft Buffalo Grove 6-7 Jr. G Top D-I offers have only just started pouring in for Craft, who averaged 27.1 points, 7.4 rebounds and 2.9 steals with a 53/41/87 shooting slash for the Bison.
Noah Franklin Cobden 6-7 Sr. G/F Franklin will give Division II Southwest Baptist a rather versatile wing next season after he put up 27 points, 11.7 rebounds and 6.6 assists per game this year.
Brandon Hall Thornton 6-4 Sr. G Hall might be a steal for East Tennessee State after a stellar senior season saw him average 24 points, eight rebounds, five assists and two steals for the Wildcats.
Bryce Hopkins Fenwick 6-7 Sr. G/F Hopkins will head to Lexington, Ky., and play for Kentucky next season after putting up 24.4 points, 12.5 rebounds and three assists to cap his prep career.
Braden Huff Glenbard West 6-10 Jr. F It's not that Huff, a high-major Division I prospect, averaged 17.5 points, 6.5 rebounds and 2.8 assists. It's that he did so playing just 22 minutes per game.
TY Johnson DePaul Prep 6-2 Sr. G Loyola Chicago is getting a dynamic piece for its backcourt in Johnson, who averaged 20.2 points, 4.1 rebounds and 3.4 assists in his final high school season.
Louis Lesmond Niles Notre Dame 6-5 Sr. G The Harvard-bound guard was arguably the best player on one of the top teams in the state, averaging 17.3 points, 5.7 rebounds and two assists for the Dons.
Nick Martinelli Glenbrook South 6-7 Jr. F Martinelli had one of the more productive and efficient seasons in the state, with 21.8 points, 5.9 rebounds and 2.7 assists on top of a 67/58/77 shooting slash.
Jalen Quinn Tuscola 6-0 Jr. G Having an AAU season will spread what those in Tuscola already know: Quinn, who averaged 24.5 points, eight rebounds and four assists, is a legit D-I prospect.
Jaden Schutt Yorkville Christian 6-5 Jr. G An elite shooter and high-major prospect, Schutt averaged 26.2 points, 8.5 rebounds, 4.5 assists and 3.6 steals while putting up a 55/40/84 shooting slash.
JJ Taylor Kenwood 6-8 Soph. G The Kevin Durant comparisons are coming for the five-star 2023 recruit after he put up 28.3 points, 7.2 rebounds, 3.7 assists and 2.5 steals for the Broncos.
SECOND TEAM
PLAYER SCHOOL HT. YR. POS. SCOTT RICHEY'S COMMENT
Zach Cleveland Normal Community 6-7 Jr. F Cleveland could be one of the breakout stars in the state this summer if he builds off the 20.5 points, 12.1 rebounds, 3.4 assists and 2.1 blocks he averaged.
James Dent Springfield Southeast 6-5 Sr. G Arguably one of the top uncommitted seniors in the state, Dent wrapped up his career with the Spartansaveraging 21.1 points and 7.2 rebounds with a 44/41/80 shooting slash.
Ganon Greenman Ridgewood 6-2 Sr. G Greenman did a lot of scoring in his career with the Rebels, and his senior season was no different at 27.5 points, seven rebounds, two assists and two steals per game.
Ben Kreitz Wilmington 6-5 Sr. C Kreitz was a force in the paint this season for the Wildcats, averaging 22 points, 12 rebounds and three blocks, but he also shot 45 percent from three-point range.
Noah Livingston Casey-Westfield 6-0 Sr. G Livingston, who's headed to Millikin next season, was one of the top scorers in the state and averaged 27 points, 4.2 rebounds, 3.4 assists and two steals.
Coltin Quagliano Wethersfield 6-0 Sr. G Some Division III program will get a stat sheet stuffer in Quagliano, who averaged 20.3 points, 6.2 rebounds, 4.7 assists and 2.9 steals this season for the Flying Geese.
Noah Reynolds Peoria Notre Dame 6-3 Sr. G Reynolds committed to Wyoming just last week after a standout senior season saw him put up 15.3 points, 6.3 assists, 5.6 rebounds and 2.2 steals per game.
Ethan Roberts Hersey 6-5 Sr. G Roberts had to adjust to the grind of the Mid-Suburban League last year, but the Army West Pointsignee had it handled this season, averaging 20.3 points, 5.2 rebounds and 4.1 assists.
Ben Schwieger Waubonsie Valley 6-6 Sr. G The future Loyola Chicago guard was seriously efficient, shooting 67 percent from the field and 49 percent from three while averaging 17 points, 8.4 rebounds and 3.8 assists.
A.J. Smith Metro East Lutheran 6-4 Sr. G Smith did it all for the Knights, putting up 22.1 points, 10 rebounds and five assists per game while drawing some Division I interest in the process.
Tevin Smith Danville 6-4 Sr. G Smith, who will play at Cal State Fullerton next year, bounced back from knee injuries to average 20 points, 9.3 rebounds and 2.7 steals for the Vikings.
Danny Stephens Augusta Southeastern 6-6 Soph. G/F Stephens topped 1,000 career points in just 50 games thanks in part to putting up 27.3 points per game this season to go with 12.4 rebounds, 2.5 steals and 2.2 assists.
RJ Walker Decatur Eisenhower 6-1 Sr. G Future Idaho guard likely would have set Eisenhower's all-time scoring record without the pandemic, but still averaged 21 points, four rebounds and four assists.
Jamauri Winfrey Peoria Richwoods 6-2 Jr. G Winfrey is drawing one Division I interest after another since he averaged 23 points, 7.7 rebounds and 2.5 assists and shot 42 percent from three-point range.
Parker Wolfe Effingham 5-9 Sr. G Wolfe will join older brother Landon at Illinois Wesleyan (where even older brother Grant played) after averaging 25.8 points, 5.1 rebounds and 3.7 steals as a senior.
SPECIAL MENTION 50
PLAYER SCHOOL HT. YR. POS.
Darrin Ames Kenwood 6-2 Soph. G
Kaleb Applebey Mount Carmel 6-8 Sr. F/C
Connor Barnett Fulton 6-3 Sr. G
Will Bates Bremen 6-1 Sr. G
Trey Bazzell Prairie Central 6-3 Sr. G
Rasheed Bello DePaul Prep 6-0 Sr. G
John Blumeyer Deer Creek-Mackinaw 6-1 Sr. G
Luke Braman Roanoke-Benson 6-9 Sr. C
Ahamad Bynum Simeon 6-3 Sr. G
Anthony Cooper Ottawa 6-2 Sr. G
Troy D'Amico Niles Notre Dame 6-5 Sr. G
K.J. Debrick Springfield Lanphier 6-8 Sr. C
Jaylen Drane Simeon 6-3 Jr. G
Daniel Duncan Peoria Christian 6-1 Sr. G
Scottie Ebube Mundelein 6-9 Sr. F
Jerrell Edwards Dunbar 6-3 Jr. G/F
Conor Enright Mundelein 6-2 Sr. G
Owen Freeman Bradley-Bourbonnais 6-9 Soph. F/C
Jake Gaither Dixon 6-3 Jr. G
Brock Harding Moline 6-0 Soph. G
Kellen Henze Lanark Eastland 6-1 Jr. G
Tony Hines Grayslake North 6-1 Sr. G
Nate Hoskins Danville 6-4 Sr. G
Gary Johns Westinghouse 6-7 Sr. G/F
Ethan Kizer Metamora 6-6 Soph. G
Trenton Kyler DeKalb 6-1 Sr. G
Davius Loury Kenwood 6-7 Soph. F
Jamar Mays North Chicago 6-2 Sr. G
Taj McKinney Wayne City 6-0 Jr. G
Graham Meisenhelter Macon Meridian 6-0 Jr. G
Joe Melton Norris City-Omaha-Enfield 6-7 Sr. F
Mac Parmelee Illinois Valley Central 6-3 Sr. G
Ty Pence St. Joseph-Ogden 6-4 Soph. G
Blake Peters Evanston 6-1 Sr. G
Jordan Rice Rock Island 5-10 Sr. G
Julius Rollins Hillcrest 6-6 Sr. G/F
Amarion Savage East Aurora 5-11 Sr. G
Jacob Schleich North Fulton 5-10 Sr. G
Treyton Selman Milledgeville 5-11 Sr. G
Brandon Stone Riverdale 6-1 Jr. G
Anthony Taylor Richards 6-5 Sr. F
Nathan Thompson Effingham 6-6 Sr. F
Nick Tingley Lincoln-Way Central 6-4 Sr. F
Nathan Valentine Geneva 5-11 Sr. G
Ben Vander Timothy Christian 6-6 Jr. G/F
Drake Weber LaSalle-Peru 5-9 Sr. G
JT Welch Bloomington CC 5-10 Sr. G
Brennan Weller Edwardsville 6-5 Sr. G
Evan Wermert Teutopolis 6-4 Sr. G/F
Darius Wilson St. Laurence 6-2 Sr. G
HONORABLE
MENTION 100
PLAYER SCHOOL HT. YR. POS.
Tye Banks Springfield Lanphier 6-3 Jr. G
Cole Brey Woodstock North 6-0 Sr. G
Austin Brown Johnston City 6-3 Jr. G
Ethyn Brown Belleville East 6-2 Sr. G
Timaris Brown St. Patrick 6-5 Jr. F
Colin Brueggemann Freeburg 6-7 Sr. C
Emaryon Byrd Peoria Manual 6-5 Sr. G/F
Gabe Calhoun Dunlap 6-2 Sr. G
Brandon Ceylor Dwight 6-1 Sr. G
Calvon Clemons Murphysboro 5-7 Jr. G
Freddie Cooper Jr. Corliss 6-3 Sr. G
Kejuan Currie Fenger 6-2 Sr. G
Jaxon Cusac-McKay Fieldcrest 5-10 Sr. G
Connor Davis Neuqua Valley 6-5 Sr. F
Zach Derus Rockford Lutheran 5-10 Sr. G
Johnny Dieck Chicago Christian 6-5 Sr. G
Isaiah Donnell Peoria Richwoods 6-3 Sr. G
Duane Doss Beecher 5-7 Jr. G
Will Dunlap Orion 6-4 Sr. F
Kaden Eirhart Altamont 6-2 Sr. G
Cormaic Flynn Monmouth United 6-1 Jr. G/F
Declan Flynn Monmouth United 6-4 Sr. G
Xavier Gagnepain Sycamore 6-3 Jr. F
Ja'Markus Gary Alton 6-1 Sr. G
Drew Gaston Indian Creek 5-11 Sr. G
Holt Geltmaker Illinois Valley Central 6-2 Sr. G
Will Grudzinski Barrington 6-6 Jr. G
Garrett Gunter Sesser-Valier 6-1 Sr. G
Henry Hamelberg Champaign Central 6-6 Sr. F
Josh Harris Timothy Christian 6-4 Sr. G/F
Rashard Harris Kankakee 6-4 Sr. G
Brady Hartman Sherrard 5-11 Sr. G
Chaz Harvey Brooks 6-2 Sr. G
Jack Haynes Streator 6-6 Jr. F
Ethan Hefel Galena 6-0 Jr. G
Trevor Heffren Eureka 6-2 Jr. G
Nate Henry Rockridge 6-4 Jr. G
Jason Hise Knoxville 6-0 Sr. G
Jackson Holmes Columbia 6-5 Sr. F
Wes Hunt Peoria Christian 6-7 Jr. F
Grant Hyer Quincy Notre Dame 6-2 Sr. G
Reece Johnson Benton 6-1 Sr. G
Tavari Johnson Lyons Township 6-0 Jr. G
Christian Jones East St. Louis 6-6 Soph. F
Jeremiah Jones Marian Catholic 6-0 Jr. G
Jacques Kelly East Aurora 6-3 Sr. G/F
Nolton Klingele Liberty 6-2 Sr. G
Kyle Kostes Lemont 6-2 Sr. G
Conrad Kuczynski Bartlett 7-2 Jr. C
Tate Kunzeman Griggsville-Perry 5-11 Jr. G
PLAYER SCHOOL HT. YR. POS.
Brayden Long Yorkville Christian 6-3 Soph. G
Markarious Luster Rockford East 6-1 Sr. G
Andrew Marincic Elmwood 6-2 Jr. G
Trent Markezich Mount Olive 6-3 Jr. G
Ethan Marlowe St. Charles North 6-8 Jr. F
Brian Matthews DePaul Prep 6-9 Sr. C
Jack Mielke Downers Grove North 6-6 Sr. F
Liddell Miller Morgan Park 6-6 Jr. F/C
Amarion Nimmers Rock Island 6-2 Jr. G
Cooper Noard Glenbrook South 6-1 Jr. G
Fernando Perez Jr. Larkin 6-3 Jr. G
John Poulakidas Neuqua Valley 6-6 Sr. G
Eric Price Galesburg 6-0 Sr. G
Macaleab Rich East St. Louis 6-4 Jr. G
Dovantae Richardson Dunbar 6-0 Jr. G
Jackson Rodgers Father McGivney 6-0 Soph. G
Cameron Russell Indian Creek 5-10 Sr. G
Anthony Sayles Niles Notre Dame 6-2 Sr. G
Declan Schemmel East Dubuque 6-1 Sr. G
Ryne Schimmel Rock Island 6-2 Sr. G
Zack Schroeder Metamora 6-2 Jr. G
Dre Scott Pinckneyville 6-5 Sr. F
Jacob Shoven Clifton Central 6-0 Sr. G
Dylan Singleton Lincoln 5-10 Sr. G
DJ Starr Normal U-High 6-0 Jr. G
Connor Steichen Gardner-SW 6-4 Sr. F
Beau Stipp Mount Carmel 6-0 Sr. G
Lonnel Strickland Fenger 6-3 Jr. G
Jeremiah Talton Quincy 6-5 Jr. G
Enari Thomas Chicago Marshall 6-1 Sr. G
Elijah Tidwell BHRA 6-0 Sr. G
Daniel Tingley Marshall 6-1 Sr. G
Devon Vanderheydt Washington 6-7 Sr. F
K.J. Vasser Yorkville Christian 6-2 Jr. G
Drake Vogel Hillsboro 6-2 Jr. G
Matthew Volkening Marengo 6-5 Jr. G
Aaron Wafford South Elgin 6-2 Sr. G
Tai Walters Homewood-Flossmoor 6-2 Sr. G
Eli Warren Mahomet-Seymour 5-10 Sr. G
Brevin Wells Oakwood 6-0 Sr. G
Damari Wheeler-Thomas Larkin 6-0 Jr. G
Corey Walker Normal West 6-6 Sr. F
Jenson Whiteman Rockridge 6-0 Sr. G
Marcus Williams Sterling Newman 6-1 Jr. G
Tommie Williams Belleville West 6-4 Sr. G/F
Koby Wilmoth Centralia 6-6 Soph. F
Tanner Wilson North Mac 5-8 Sr. G
Zach Wolfe Bloomington Cornerstone 6-4 Sr. F
Jermale Young Jr. Urbana 6-0 Sr. G
Landon Zurliene Fairfield 6-3 Sr. G